Six Great Books for Ages 10 and Up by Gena K. Gorrell
<![if !vml]>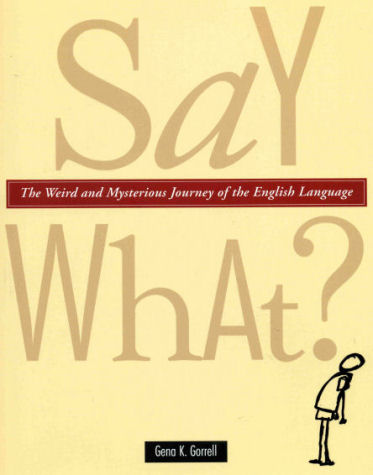 <![endif]>
Where did English come from? It's the memory of thousands of years of history, the places people came from, the places they went, the adventures they had, the friends and enemies they made, the battles they won and lost. As English changed and grew, it became a jumble of sounds, word, and rules from countless languages and nations and it's still changing and growing. That's why it can be so confusing and inconsistent. That's also why it's the richest, most international, most versatile language in the world.
Say What? is an innovative combination of history, intriguing facts, and games to help readers unravel the story of English.
"wonderfully absorbing…, immensely readable; her touch is light, sparked with humour and allusions to such touchstones as Harry Potter, but her reach is far and deep." Globe and Mail
"clear, concise chapters that never leave the reader feeling overwhelmed… maps, images, activities, and sidebars of etymological goodies that will delight even the most seasoned of word nerds… Throw in a great selection of games and riddles, and you've got an informative book that all ages will enjoy." Manitoba Library Association
---
<![if !vml]><![endif]>
South America is a land of indescribable natural beauty - of brilliant color, amazing animals, and exquisite plants. Some people live high in the mountains, where most of us would be gasping for breath; others live in houses on stilts, or beside lakes of solid salt, or on floating islands made of reeds. And deep in the rainforest there are plants and animals and - who knows? - perhaps even people that our modern world has not yet discovered.
In six trips (so far!) to South America, Gena K. Gorrell has traveled through the rainforest by dugout canoe, slept in a hut with a resident tarantula the size of a dinner plate, huffed and puffed through the mountaintop citadel of Machu Picchu, and scuba dived with hammerhead sharks in the Galapagos.
And she can't wait to go back.
"describes the history – the explorers, leaders, people, colonization and quest for independence…" Manitoba Library Ass'n
"packed with highlights, descriptions and poetry…unique animals and plants…drawings of everything from sailing ships to tango dancers…" School Library Journal
<![if !supportEmptyParas]> <![endif]>
---
<![if !vml]>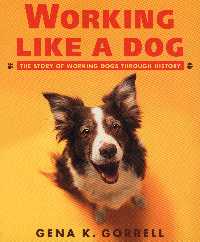 <![endif]>
About 15,000 years ago, some of the wolves scavenging food around our campsites grew gentle and adaptable enough to live in our communities. In a spectacular feat of evolution, their descendants became sleek greyhounds streaking after prey, massive Newfoundlands rescuing stranded sailors, and bowlegged Pekinese snoozing on silken pillows. Now, meet Turbo the Frisbee acrobat; Poppy the movie star; Viva the hearing dog; Garbo the submariner; Dart the Fisheries inspector; Grommit the snake-finder; and many more.
How and why did we end up with such an amazing range of dogs? Working Like a Dog tells the story from caveman days to the present -- with a wealth of entertaining anecdotes and 70 illustrations.
WINNER OF THE ASPCA HENRY BERGH CHILDREN'S BOOK AWARD
"Gorrell's lively prose and her enthusiastic affection for and appreciation of Canis familiaris make this very thorough treatise on the dog a pleasure...." Globe and Mail
"A splendid, in-depth book in which even the most fanatical dog lover will discover something new. It's the perfect book for any dog-mad preteen." Quill & Quire
<![if !supportEmptyParas]> <![endif]>
---
<![if !vml]>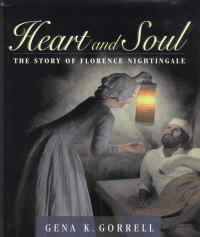 <![endif]>
Florence Nightingale - often thought of as a saintly angel of mercy - was in fact a difficult, demanding woman. Born to a life of privilege, she outraged her family by working among people who were poor, filthy, and dangerously diseased. She led a team of nurses into the unspeakable filth and gore of the Crimean War, and her ruthless commonsense laid down the principles of modern nursing and public health.
Heart and Soul is a comprehensive biography describing an extraordinary genius within the context of Victorian society and medicine, brought to life by over 50 illustrations.
WINNER OF THE NORMA FLECK AWARD FOR OUTSTANDING NON-FICTION FOR CHILDREN.
Selected by the Globe and Mail as one of the year's ten best children's books.
"With background information on Victorian culture and mores, plus numerous supporting photographs and engravings, the cumulative effect of this balanced but passionate biography is galvanizing." Globe and Mail
"Succeeds in separating myth from reality, smoothly crafting a picture of a gifted individual who was also wholly human." School Library Journal
"Accessible, inspiring, and packed with unusual facts, this book will find its way into the heart and soul of many readers, both young and old." Quill and Quire
---

<![if !vml]>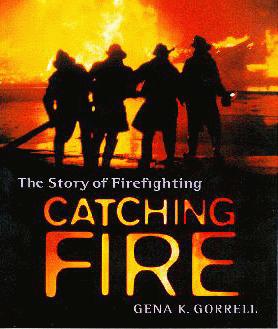 <![endif]>
The job of firefighting has always called for strength and bravery, but these days it also takes a lot of scientific know-how. Catching Fire looks at how our ancestors dealt with fire, and some famous fires of the past. Then it explains, simply and clearly, using almost 80 pictures:
how firefighters are trained, how they do their job, and what all those tools and vehicles are for;
how they fight fires in difficult places like forests, oilfields, ships, and airplanes;
how they handle other emergencies, such as car crashes, earthquakes, chemical spills, and people trapped in floods or frozen lakes;
how investigators know when a fire was set on purpose, and how they catch the fire-setter.
This fascinating, information-packed book ends on a serious safety note: how you can prevent fires, and what to do if you're ever caught in a fire.
"A multitude of photographs, boxed anecdotes and a lively text...both accessible and engaging." Globe and Mail
"Lively and informative...an excellent addition to nonfiction collections." School Library Journal
---

<![if !vml]>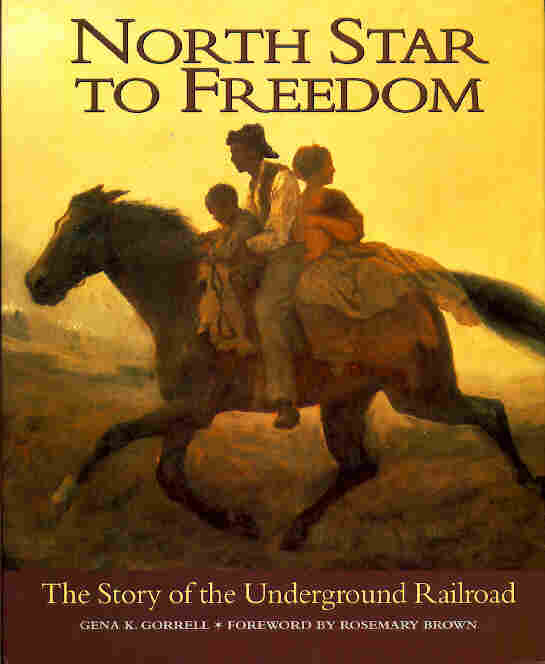 <![endif]>
Imagine escaping from the terrors of plantation slavery, only to live for years in a swamp full of biting insects and deadly snakes. Picture yourself making a dangerous journey to freedom, guided by nothing but courage and the North Star. Think of beginning a new life in a new country, only to fall prey to bounty hunters....
North Star to Freedom tells the stories of the people who made up the Underground Railroad, that amazing network of quiet farmhouses, peaceful country lanes, and busy city streets that reached from the slave-owning areas of the southern United States to the free states of the north and on to Canada.
Meet some of the men and women who planned daring and ingenious ways to escape slavery, such as Henry "Box" Brown, who mailed himself to the Philadelphia Anti-Slavery Society in a box, and the strong-willed Harriet Tubman, who fled with nothing more than a scrap of bread and the clothes on her back, and then returned to the south year after year to help others find their way to freedom.
"It's the inspiring stories of bravery, endurance, and ingenuity that bring this book alive..." Quill and Quire
"Full of intriguing facts about secret hiding-places and codes, but most riveting of all are the true stories...an indispensable and inspirational tool in any classroom." Kirkus Reviews
"This is a book I would recommend to my own children." Books in Canada